Debut Memoir: The Cape House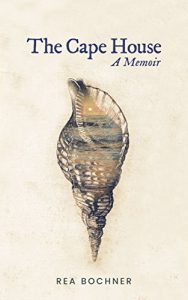 Rea Bochner bursts onto the literary scene with this unforgettable memoir, a deeply touching story of mothers and daughters, love and loss, the power of holding on to each other and the strength it takes to let go.
The Cape House is a story both personal and universal, told with fearless honesty and laugh-out-loud humor. It begins on the day that Bochner's mother, Debbi, tells her that she's received a prognosis of terminal cancer, and has decided to move to the family's beloved summer home in Cape Cod to die. Over the next six weeks, as Debbi deteriorates, Bochner writes the story of her family, and looks back on the winding road she trudged with her mother through addiction, recovery, and redemption. Readers travel with the author from Phoenix, Arizona, to a medieval Dutch castle, to the Old City of Jerusalem, where an array of colorful characters shape her destiny in unexpected ways. Meanwhile, Bochner presents a real-life portrait of a family struggling to stay together, even as their personal journeys threaten to tear them apart.
As both a eulogy for and a celebration of an exceptional woman, Rea Bochner writes unflinchingly of the powerful bond between a mother and her daughter. The result is a moving book that carries the readers from tears to laughter, from mourning to triumph. The Cape House is a testament to love as a force of nature, and the journey of one woman to discover herself.
Parenthology Series:
"Being pregnant is like preparing for war. You can run drills and practice loading your M16, but once you're in battle, all you can do is duck and cover". So begins Parenthology 0-3, the first installment of the hip, funny series on parenthood from a mom in the trenches.
With keen insight and a fresh sense of humor, author Rea Bochner offers pointers to new and seasoned parents for helping babies aged 0-3 months grow in six developmental categories: Emotional, Physical, Speech/Language, Social, Sleep and Eating.
A "mom trying to help other moms", Bochner takes research from the top pediatricians and parenting experts, traditional practices from international cultures and, most importantly, the experience of the real experts – other moms – and breaks them into bite-sized tidbits for time-deprived parents. Mixed with her own hilarious stories, the result is a fun, down-to-earth and readable series you'll find yourself turning to for every stage of your baby's development.
3 Books
How To Raise, Happy, Healthy Newborns Without Losing Your Mind! (0-3 Months)
How To Raise Happy, Healthy Infants Without Losing Your Mind! (3-6 Months)
How To Raise Happy, Healthy Babies Without Losing Your Mind (6-9 Months)